Event:
Dragon's Nest
Date:
January 15, 2012 11:00am-05:00pm
Location:
Honolulu Academy of Arts
---
Event Information:
Just because the holidays are over, doesn't mean the festivities are finished! Lets start 2012 with a bang, pow, pop, boom! Celebrating the year of the dragon. Rarr! Kung he fat choy.

Coordinated with the Associated Chinese University Women, Inc.
Entertainment
Phoenix Dance Chamber

Lion Dance
Gee Yung Martial Arts, Dragon & Lion Dance Association joins us again this year with a Chinese Lion Dance through the museum starting from Banyan Courtyard to bring us all good luck!

Martial Arts / 24 seasonal drums demonstration
The Lion Dance leads onlookers to the Central Courtyard for a display of amazing local martial arts talent.

Chinese Lion Pole Performance
Presented by Gee Yung Martial Arts, Dragon & Lion Dance Association

Qigong demonstration (Falun Gong)
The Falun Gong group will demonstrate on Falun Gong Qigong exercises.

Longevity Table
View a display of different types of Chinese foods and produce to promote long life courtesy of the Associated Chinese University Women. (A.C.U.W)

All About A.C.U.W. and Jai
Learn all about the Associated Chinese University Women and jai, a Chinese dish for the new year. Take away a free booklet about the ingredients plus a jai recipe.
Family Film Sunday (11:10am)
Best of the Fest! Award Winning Films from the Chicago International Children's Film Festival
41 mins. Three films have subtitles (Japanese, Spanish, Swedish) and a recorded reading.
$3 Adults / $1 Children (12 + under)
Facets Kids Film Network presents a one-of-a-kind collection of 10 short films from around the globe to challenge, entertain and engage children's creativity. Recommended for ages 5 + up.
Activites
Chinese Calligraphy
Member of the A.C.U.W. invite you to learn how to do Chinese calligraphy with their experts and then try it out for yourself!
Drawing Contest
Congratulations to last month's contest winner, 8-year-old Annika Swanson from Honolulu.
Kids (ages 1-17) can enter the monthly drawing contest. The Academy gives contestants a theme and drawing supplies. The winner receives a Family Level membership to the Honolulu Academy of Arts (worth $95), and his or her artwork is used to create the following month's event brochure and is posted on the Academy website.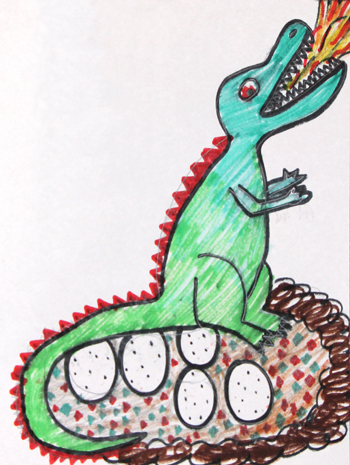 ---